small moral stories
Motu Lal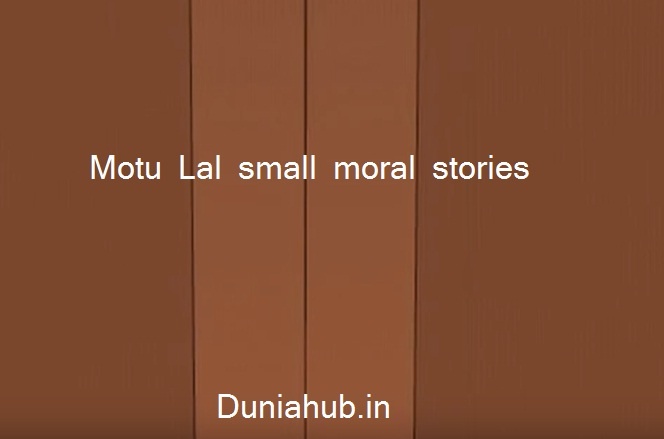 small moral stories, short stories in english, This is a small short story when Motu Lal went to his house and saw that a servant has come to his house, while he did not even need a servant, but who called him, to get it, Gaya Motu Lal's wife replied that I have called it.
Motu Lal said that we do not need a servant, we both live in the house and also go to our shop everyday. After that you stay in the house and why you need a servant, you have to work all the house work of Motu Lal's wife. You go to the shop after that all the house work remains like this is,
There are many things in the house which takes us a lot of time to do. So the servant has been called, the servant speaks that you have to keep me or see some other house in it, Motu's wife said that we keep you and tell you You are ready to work.
The servant said that it is okay to come to your house from tomorrow, the servant went away saying that you do not need a servant but if you feel you can keep it, by saying this, the fatty red went, Lal seemed very strange that we do not need a servant.
The next morning, the servant came in the morning and started to start his work. At the sight of Motu Lal, he was on the servant. He was seeing the servant how the servant was working. Then the wife of Matu gave some money to the servant and said that the market Get something similar from you.
The servant went to take the same and when the fatty red came home, he saw that the servant was working. Mata Lal remembered that the servant had gone to get the same, and Motu Lal asked him to answer him, and the servant said that it was similar and that all the money Even the spent fat was watching him and he started thinking that it would be very expensive.
Two days later the servant had to bring something more and this time Motu started pursuing that servant, and Motu saw that he was saving some money from every side but the fat was thinking why he was doing this Maybe it gets less money from us or it's stealing.
It was a matter of fact that Motu Lal got his wife and it was too bad that the servant was doing this, then the servant was called and asked why you are doing this so that the servant's eyes came tears and he said that his wife The condition of the person is bad and he needs medicines every day, so he brings his medicine with money and when you pay the money when the month is over
small moral stories, short stories in english, So your money will be looted from it, thinking that it was doing so, Motu was very sad and he told the servant that you should have told us once, remembering that you do not have to do this, Motu has given him many Give the money so that he can get treatment for his wife, he will gradually give it to his own money, the servant has regretted his mistake and worked for many years at Motu's job, if you had this story Doubts have come so to stock up and tell also us.
Read More-Rainy Weather english story
Read More-King's disease Story
Read More-magical parrot story